2023 Chevrolet Trailblazer Near Savannah, MO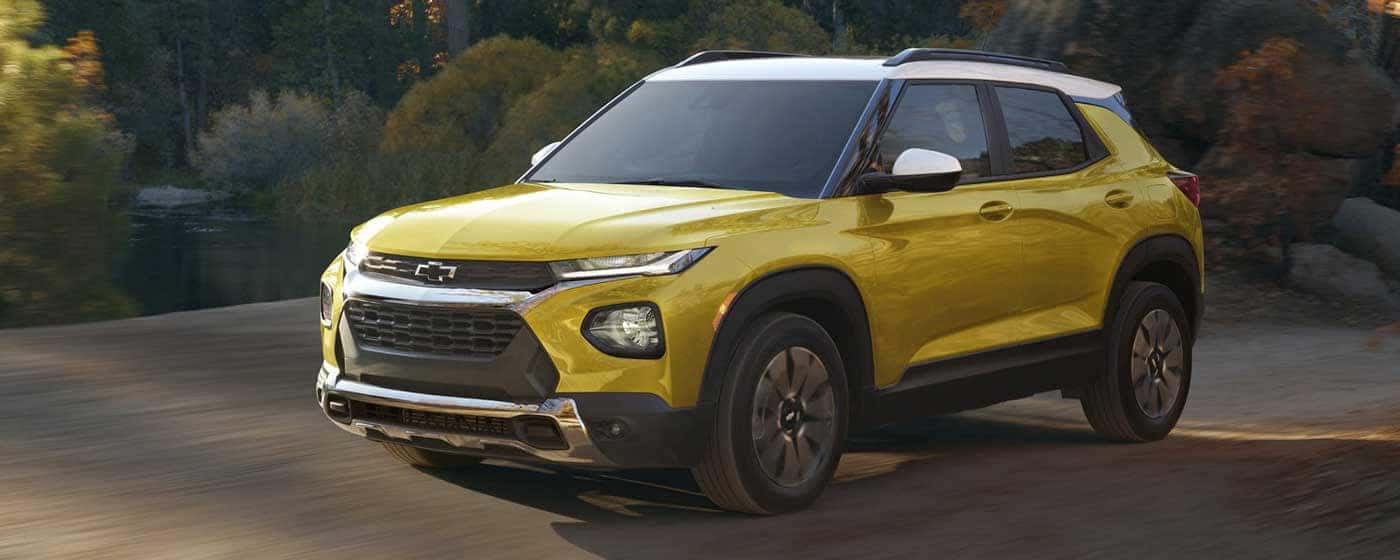 2023 Chevrolet Trailblazer at Victory Chevrolet of Savannah
Two engine options and four trim levels, each with front- and all-wheel drive as an option, are available for the exciting all-new 2023 Chevy Trailblazer. Hit the streets of Kansas City with style and comfort and take advantage of the amenities such as a 7-inch color touchscreen, Bluetooth, Android Auto, Apple CarPlay, Wi-Fi hotspot connectivity, and two USB ports are all standard on the infotainment system in the 2023 Chevy Trailblazer. There is also a standard audio system with six speakers that will keep you and your passengers entertained at all times. Come take a test drive today at Victory Chevrolet of Savannah, especially if you are in or near the Smithville or Independence areas, and let us get you in that all 2023 Chevrolet Trailblazer you've been looking for!
Rugged and Capability
137 horsepower and 162 pound-feet of torque are produced by the standard 1.3-liter three-cylinder turbocharged engine, which is only offered with front-wheel drive versions that come with sport terrain tires for anything the road may have in store. It is paired with a continuously variable automatic transmission and a functional front skid plate. When coupled with a nine-speed automatic transmission, which is available with both front- and all-wheel drive, the 2023 Chevy Trailblazer generates up to155 horsepower and 174 pound-feet of torque.
Spacious Interior
The 2023 Chevy Trailblazer is one of the few subcompact SUVs with such an impressive amount of interior space. The new trailblazer features a total of 54.4 cubic feet of cargo space, including 25.3 cubic feet behind the back of the seats and front row seats that fold down to give you that little extra space when needed. To accommodate larger cargo, the front passenger seat can also be folded down. With 40.9 inches of front legroom and 39.4 inches of rear legroom, the 2023 Trailblazer provides a surprising amount of space, giving you and your passengers plenty of room for comfort and cargo. The interior is built for function and has several of the following amenities and more:
A center console that is built into the dashboard
Easily accessible and large controls
An infotainment screen that allows you to control apps at the touch of a finger
A stylish and forward-thinking design both inside and out
Cutting-Edge Tech
The 2023 Chevy Trailblazer comes with a standard 7-inch infotainment screen but there is also an available 8-inch screen for that extra bit of convenience. With the exciting new Technology package, the 2023 Trailblazer offers wireless connectivity to the Apple CarPlay and Android Auto smartphone applications in addition to Sirius XM satellite radio so you and your passengers will be connected and entertained at all times. Chevy also integrated convenient little extras like a wireless charging pad that can charge your devices by simply setting it down in the appropriate area and is available on the ACTIV and RS versions.
Impressive Fuel Economy for its Size
The larger 1.3-liter three-cylinder on the 2023 Chevy Trailblazer with front-wheel drive is the most economical, with scores of 29 mpg city and 33 mpg highway, according to the EPA. When you go with the all-wheel-drive version the fuel economy will drop to around 26 mpg city and 30 mpg highway. Overall, the fuel economy for the size of the all-new 2023 Chevy Trailblazer is very impressive and will be able to make about 200 miles on a single tank.
If you are curious about your financing options and would like to learn more, contact our finance department and we can help you with any questions. You can value your trade-in by clicking here and you can also apply online to get preapproved today!