Chevy Introduces Upcoming 2024 Electric Corvette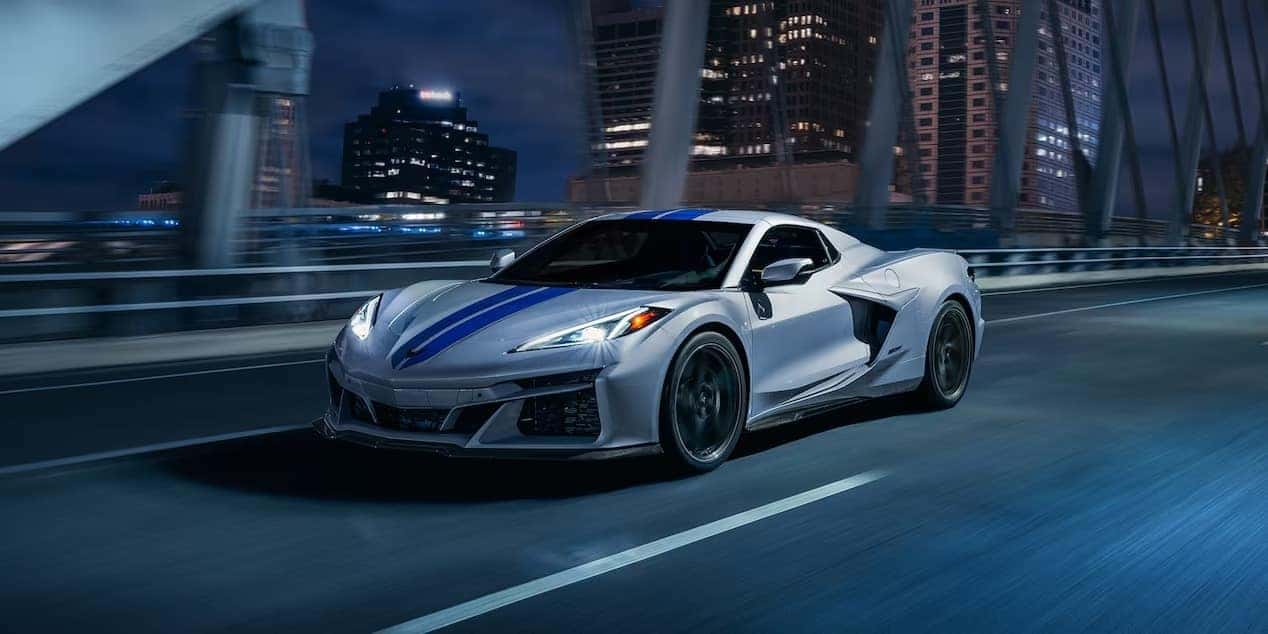 Chevy Celebrates the Corvette with an Electrified AWD Model at Victory Chevrolet of Savannah
It's impossible to ignore the power of the Chevrolet Corvette, but recently, it debuted in an entirely new form. The new 2024 Chevrolet Corvette E-Ray brings all the power you would normally expect from this model but with a much more efficient design. This electrified model easily breezes past other vehicles on the track and leaves its mark. When you want to be one of the first to grab one near Savannah, St. Joseph, or Kansas City, you'll want to head to Victory Chevrolet of Savannah. 
Electrified for the First Time
The new 2024 Corvette E-Ray features a stunning design that helps to maximize performance. Its 6.2L LT2 Small Block V8 engine is already a powerhouse, but it's boosted even further by an electrified propulsion system. The Corvette was first shown to the world in 1953, and after seven decades, this model finally comes in an electric format. It's also the quickest Corvette ever built, as its electronic systems assist it in achieving an incredible 0-60 time of only 2.5 seconds. It also boasts some serious traction as drivers will have access to eAWD. This system lets you dig your heels in, as each one of your tires will have a better grip. While this is ideal for the track, it can also help you navigate slippery road conditions that would pose a challenge for most other vehicles. When it comes to capability, it's incredibly difficult to match what the brand-new E-Ray can do. 
Design and Comfort 
Since this model is electric, you might be worried about needing to charge it. Luckily, you won't have to think twice about your battery, as it charges itself via regenerative braking. Every time you come to a stop, the kinetic energy is converted into usable electric energy, which helps to fuel your battery over time. It also features plenty of design and comfort options, which you're sure to love.
Stealth Mode:

Are you worried about waking your neighbors when you leave in the morning? Stealth mode works up to 45 miles per hour.
Your Tires:

You'll have quite a few options for your tires, like the available Michelin Pilot Sport 4S Summer Tires. 
A Wider Stance:

This model is 3.6 inches wider than the Stingray, while still offering the same low stance.
A Powerful Roar:

When you're looking to stand out, simply step on the gas and watch as your engine roars to life. 
A Wide Assortment of Tech
This model also features some incredibly powerful technology, like standard Active Fuel Management. This can save you a significant amount of money over time, as you'll be even more efficient. There's also your infotainment system which features the E-Ray Performance app. Using this, you'll be able to see everything from a graph of your torque to your power output from your electric motor. This can help you make sure you're getting the best possible times on the track and can give you an idea of where you need to improve. If that wasn't enough, the E-Ray also offers features like:
Automatic Emergency Braking
Standard Magnetic Ride Control 4.0
Standard Brembo Carbon Ceramic Brake System 
When you're looking for your own Chevrolet model, head to Victory Chevrolet of Savannah today. Once you apply online, financing is easy.