Why Service With Victory Chevrolet

Trust The Chevy Experts at Victory Chevrolet of Savannah
Cruising the streets of Kansas City or going for the long haul across state lines means your vehicle needs to be in tip-top shape whether or not you purchased it new or pre-owned. While wear and tear are perfectly normal in your high-efficiency Chevy Bolt or the powerhouse Chevrolet Silverado, making sure to take care of those issues before they cause serious problems is essential. When your vehicle isn't as responsive as it used to be or when it's time to head in for an oil change, Victory Chevrolet of Savannah can help. Our Service center covers the big repairs, minor fixes, and regular maintenance for your vehicle, and for everything else, we have an amazing tire center as well as a parts store for everything you might need. From Savannah to St. Joseph and everywhere in between, it's time to schedule your next service with Victory Chevrolet of Savannah.
---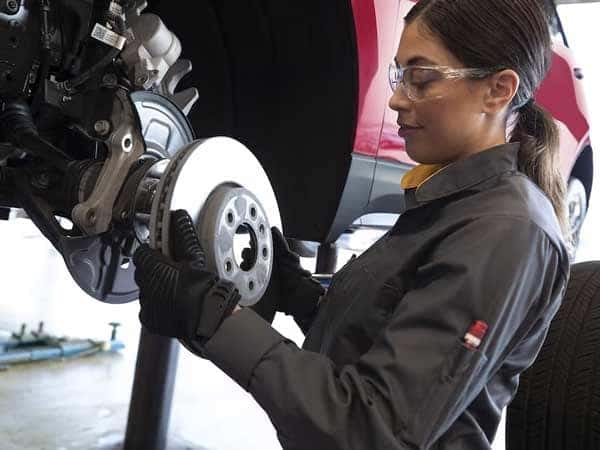 The Importance of Regular Maintenance For Your Vehicle
Keeping your vehicle in great shape is important to help extend the life of your vehicle, protect your investment, and stay safe while driving. Putting too much time between regular oil changes can cause build-up of debris inside your engine and surrounding components, and clog up your filtration system. This can cause your engine to run at lower fuel efficiency, and may eventually cause your entire engine to seize up and stop working. Getting your vehicle's components inspected regularly such as your brakes, transmission, and steering can help keep you safe, prevent accidents while you drive, and prevent irreparable damage down the line. Keeping an eye on your tires is also important, as uneven tread or improper inflation can lead to unsafe conditions and road accidents.
Scheduling Your Next Service Visit Online
Scheduling your next service with Victory Chevrolet of Savannah is easy, and can be done at your convenience. We keep hours that are friendly to people with busy schedules, and you can schedule using our easy-to-use online form or give us a call to get your next appointment on the books.
---
Learn More About Services We Offer
Check Out Our Service Offers
Before you make plans for car service, you'll want to check out our service and parts offers here at Victory Chevrolet of Savannah. Be sure to check back often because our service offers are updated regularly. The service team at Victory Chevrolet of Savannah has special offers on different maintenance services. We provide a full range of preventative maintenance for your car, truck, or SUV, such as the following services:
Oil and filter change
Tire tread check and air pressure testing
Tire rotation
Wheel alignment
Brake inspection
And more
Bring your Chevrolet model to Victory Chevrolet of Savannah for premier service. We'll help you keep your vehicle in prime condition by following the manufacturer's instructions for care. You can schedule service online, give us a call, or just stop by for same-day service.
We Handle Everything From Routine Maintenance to Big Repairs
Even with regular care, your vehicle will need repairs someday. Parts wear out in time and need to be replaced. You can trust the service team at Victory Chevrolet of Savannah to get the job done right and quickly to get you back on the road.
We use genuine OEM parts because they provide the best results. They are designed to work with your systems for optimal efficiency and performance. Our service technicians are trained on all models and stay up to date on the latest technology, such as hybrid and electric cars.
We use advanced diagnostic equipment to determine what is wrong with your vehicle and which part needs to be replaced. Our Parts Department has a full inventory of parts, so we can make the repair right away instead of waiting for a part to be delivered.
Get the Right Part for Your Vehicle
When it's time to replace your battery or tires, you can find a range of options right here at Victory Chevrolet of Savannah. Our team will help you decide on the right product based on price and features.
Maybe you like to do your own maintenance, and you just need the right belt or hose to get the job done. Our Parts Department will help ensure you get the right part that fits your model. From windshield wipers to gaskets and spark plugs, we have OEM parts in stock.
Choose Victory Chevrolet of Savannah for Car Service & Repair
When you're in need of vehicle service, OEM parts, or new tires, Victory Chevrolet of Savannah can help you with comprehensive options to fulfill nearly any need. We offer a fully equipped service facility staffed with expert technicians familiar with an extensive range of makes, models, and model years. We offer a rotating menu of specials on our service offerings to help save you big when the time comes for you to replace that battery or get a new set of tires. We offer brake services, battery services, oil changes, and everything in between no matter how big the job. We also offer a tire center with the perfect fit for your vehicle, and with an array of different tire types to match the current season and overall road conditions. Check in on our parts center, where we make it easy to order the components that you need for your vehicle.
Let Victory Chevrolet of Savannah help you get the service and parts you need to keep your vehicle running smoothly.